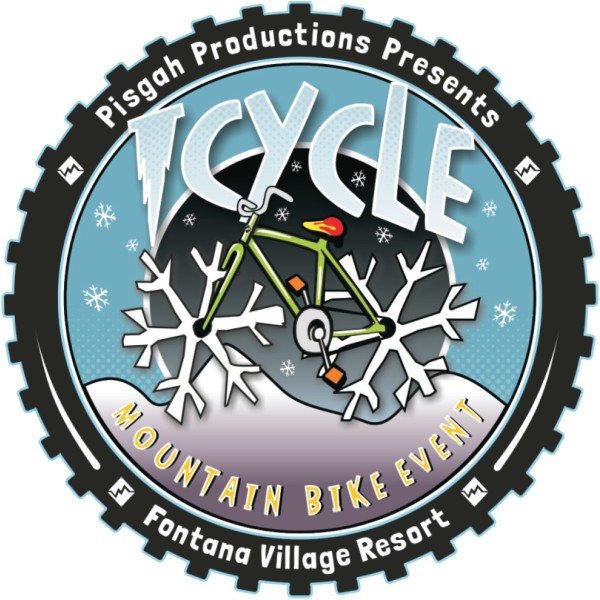 TBA
Pisgah Productions is proud to present the ICYCLE! The most fun you'll ever have on two wheels, rain, sleet, snow or sunshine.
XC Lap race, Night DH race, Party.
Race entry is only $40 for one event or $60 for both!
Course:
The 7 mile- 1100′ climbing Icycle XC course offers some of the finest single-track around. The course consists of varied terrain with rocks, roots, creeks, & wide open passing lanes.
The Icycle DH course includes Turkey Chute trail; a super-fast and fun wide-open lane of a trail that drops 900 feet in 1.2 miles. There are jumps, berms, and minor rock gardens along the way.
Schedule of Events:
REGISTRATION and SIGN-IN:
5:00PM – 9:00PM FRIDAY (Location: Events Hall Lobby)
8:00AM – 10:30 AM and 2:00PM – 7:00PM SATURDAY (Location: Events Hall Lobby)
CROSS-COUNTRY  Race:
RACER MEETING: 15 minutes before division start time (Location: Ballfield)
Junior (M/F) (>12 years old) (<12 years old)- Saturday 11:10AM (1 short Lap – without Luwellen Cove)
Beginner (M/F) – Saturday 11:05AM (1 Lap) 
Sport (M/F) – Saturday 11:00AM (2 Laps)
Masters (M/F) – Saturday 1:00PM (2 Laps)
Expert (M/F) – Saturday 1:00PM (3 Laps) 
Single Speed (coed) – Saturday 1:05PM (3 Laps)
All XC podiums – Saturday 3:30PM
DOWNHILL Race:
Practice – Saturday 2:30PM-7:00PM. We will NOT be providing shuttle service.
RACER MEETING: Saturday 7:15PM (Location: General Store parking lot)
The downhill race starts at approximately 7:30PM. Racers will leave the start gate in one minute intervals in the following category order. There will be a three minute interval between categories.
1. Junior <12 years old – (M/F) 
2. Junior >12 years old – (M/F)
3. Hard Ass – (NO SUSPENSION F or R) – (co-ed)
4. Beginner – (M/F)
5. Sport/Amateur – (M/F)
6. Expert/Pro – (M/F)
ALL DH podiums – Saturday 10:00PM
Rules:
1. Have Fun!
2. By order of the Graham County Fire Marshal – NO FIREWORKS.
3. Racers must wear their helmets at all times while riding in the event. 
4. Electric-Assist bikes (E-Bikes) are prohibited.
5. The Race Director reserves the right to disqualify any team/racer for any reason deemed by race officials as unsportsmanlike or otherwise against the spirit of the event.
6. Protest period ends 30 minutes after the final racer returns.
Venue:
Fontana Village Resort, a year round destination resort, is set amidst the pristine beauty of the Nantahala National Forest of western North Carolina, gateway to the Great Smoky Mountains National Park. The area's breathtaking mountain vistas and panoramic views from Fontana & Cheoah lakes provide memories to last a lifetime.
The Village has a wide range of accommodations, including rooms in our intimate Lodge, cabins, as well as spaces for your RV or tent-camping with a beautiful view of the Little Tennessee River.
http://www.fontanavillage.com/
Directions:
From Knoxville, Tennessee, take Hwy 129 south from Knoxville to Maryville, TN. Just past Maryville, Hwy129 turns left off of the four lane highway. Drive carefully. This section of this route is a beautiful, but curvy mountain road known as the "Dragon" by car & bike enthusiasts. One mile past past the TN/NC state line turn left on Hwy 28 at Deals Gap. Continue on Hwy 28 for 8.6 miles.
From Asheville, North Carolina take I-40 west. Take the exit for Hwy 74 (Great Smoky Mountain Expressway). Stay on Hwy 74 (four lane) you will pass Clyde, Sylva, and 8 miles past Bryson City turn right on Hwy 28. Continue on Hwy 28 for 25 miles.
From North Atlanta, travel north on I-75, I-575, GA 5, US 76, GA & NC 60 North, US 64 east to US 129/19. North of Andrews, take US 129 to Robbinsville. Take NC 143 east to Hwy 28, follow Hwy 28 to Fontana Village.
Another route from North Atlanta, north on GA 400 to Dahlonaga then US 19 North to US 129, then US 129 North to Robbinsville. Take NC 143 east to Hwy 28, follow Hwy 28 to Fontana Village.
From east Atlanta, take I-85 north to 985 north which turns into US 441. Continue into NC to the town of Dillsboro. Merge on to Hwy 74 west to Bryson City (last chance for groceries) turn right on Hwy 28. Continue on Hwy 28 for 25 miles.
From Chattanooga, Tennessee take I-75 north to exit 20 onto US 64 E. towards Cleveland and merge onto the US 74E/US 64E via the ramp to the Ocoee River Gorge. Travel 81 miles to Topton, NC. Turn left on US 129. Travel 11 miles and turn right on NC 143 in Robbinsville, NC. Travel 9 miles and turn left onto NC 28. Fontana will be 11.7 miles north on your left.
For GPS Users
For GPS users, the coordinates to the Lodge for check-in are 35.4364112, -83.822342 35.4364112 -83.822342 N35° 26.1847′, W083° 49.3405′ or plug in the following address: 300 Woods Road. Fontana Dam, North Carolina 28733
Other:
Fontana Village is offering lodging discounts for the Icycle! 
If you make your reservation by phone be sure to tell the representative that you want the GROUP RATE and that you are coming for the Icycle.
If you make your reservation online be sure to click 'YES' when it asks about being with a group. Then type in icycle 2020 as the group name.
GPS Downloads: