Date: Aug 13, 2022 - Aug 14, 2022
Time: 9:00 AM - 5:00 PM
2022 Update: We will announce on-sale dates and course information as soon as possible. 
Pisgah Productions is excited to announce the Pisgah Enduro! Individuals will test their downhill skills on seven different timed sections over ONE or TWO DAYS of racing. The rides in-between the downhill sections will not be timed.
ONE day (Saturday) and TWO day (Saturday AND Sunday) categories available.
SATURDAY (DAY ONE) COURSE – TBD
Course: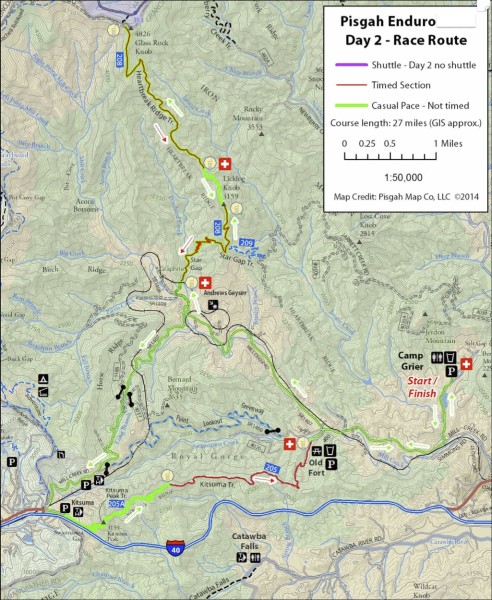 Day 2 (Sunday) timed sections: 1. Upper Heartbreak Ridge 2. Lower Heartbreak Ridge 3. Kitsuma
Schedule of Events:
Friday – 12:00PM – Camping open at Camp Grier.
Friday – 5:00PM-10:00PM – Registration and sign-in open.
Saturday – 7:00AM-8:30AM – Registration and sign-in open.
Saturday – 8:45AM – Racer meeting.
Saturday – 4:20PM – Saturday awards.
Sunday – 12:00PM – All racers must be at the top of Heartbreak Ridge for the Day 2 race start.
Sunday – 4:00PM – Sunday awards.
Sunday – 4:20PM – Two day category awards.
Sunday – 8:00PM – Camping closed at Camp Grier.
Rules:
1. Have Fun!
2. Racers must wear their helmets at all times while riding in the event. This includes during transition stages.
3. Racers must complete every stage.
4. The racer with the lowest sum of timed stage times wins. Transition stage times will not be considered.
5. In the event of a tie: The racer with the fastest time on the final stage of the day will be considered in the lead.
6. Racers must stay on-course for the duration of the event. DO NOT CUT CORNERS / SWITCHBACKS.
7. Electric-Assist bikes (E-Bikes) are prohibited.
8. The Race Director reserves the right to disqualify teams for any reason deemed by race officials as unsportsmanlike or otherwise against the spirit of the event.
9. Rule infractions witnessed by Race Officials will result in disqualification.
10. Rule infractions NOT witnessed by Race Officials must be reported by members of TWO SEPARATE teams to be considered.
11. Protest period ends 30 minutes after the final team returns or 5:30PM Sunday, whichever comes first.
12. SIGN-IN and RETURN YOUR TIMING CHIP upon completion of the event (Please, this includes DNF teams). Additional charges will apply to teams that do not return their timing chip.
Venue:
Camp Grier, NC

http://www.campgrier.org/
Directions:
N35.64484° W82.19317°
From Asheville, NC.
* Take I40 East to exit 72 for US-70 toward Old Fort/Mountain Gateway Museum
* Take Old US-70 to Camp Grier Rd
* Continue onto US-70 E/W Main St
* Turn left onto Old US-70
* Turn right onto Camp Grier Rd.
 From Hickory, NC.
* Take I40 West to Exit 73
* Turn right onto Catawba Ave (signs for Old Fort)
* Turn left onto W Main St
* Turn right onto Old US-70
* Turn right onto Camp Grier Rd
* Destination will be on the left
Camp Grier
985 Camp Grier Rd.
Old Fort, NC 28762
Other:
LODGING:
Camping and bunkhouses are available at Camp Grier. 
Tent / Car camping spots are available for $10 per person per night and include: A grassy patch to pitch your tent and access to drinking water and portable toilets.
Bunkhouse accommodations are available for $20 per person per night. Bunkhouses include a bunkbed and access to community kitchen, bathrooms, and showers. 
Please purchase lodging during the registration process at active.com
REFUND POLICY:
Sorry, No refunds.
OTHER:
This event is under special use permit with the U.S. Forest Service.
Route Downloads:
GPS Downloads: